Understanding and Combating Eye Allergies
Eye allergies, also known as allergic conjunctivitis, are conditions where the conjunctiva, the outer layer of the eye and eyelid, becomes inflamed and swollen due to exposure to an allergen or irritant. These allergies cause red, watery, itchy, and sometimes swollen eyes. These are some reactions of the oversensitive immune response like that produced in the nasal and respiratory systems. Millions of North Americans suffer from seasonal allergic conjunctivitis that occurs in spring, summer, and fall.

Vision Gallery provides comprehensive guidance on symptoms, causes, and treatments to ensure clear vision for all individuals.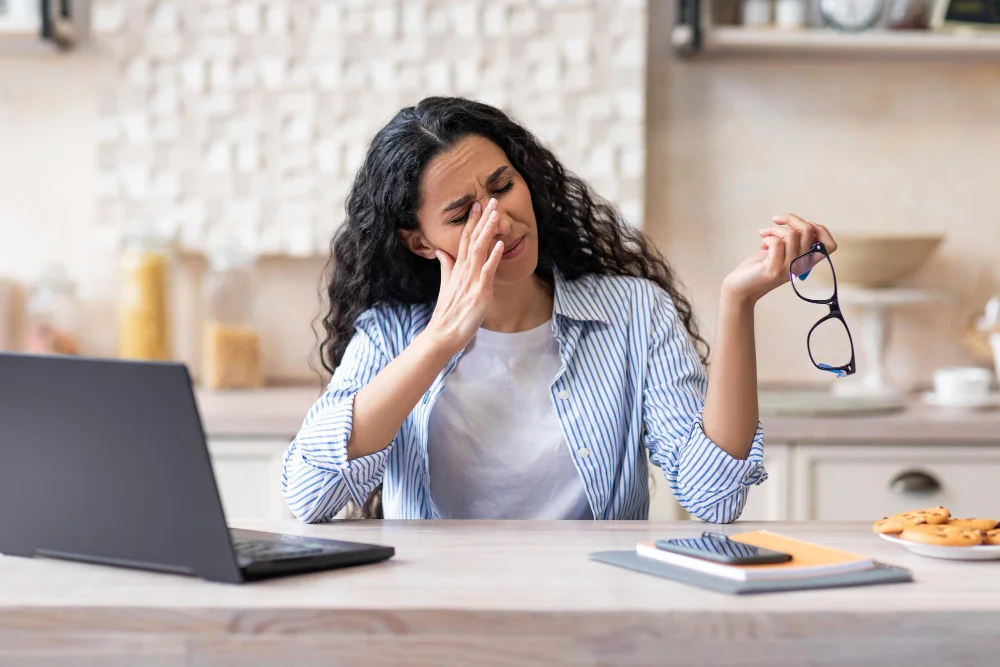 What Causes Eye Allergies?
Your eyes may become very sensitive if you are allergic to something. It is because the small membrane covering them and the inner surface of the eyes can be affected by allergies. Some of the most common allergens are:
Common Symptoms of Eye Allergies
Identifying allergies and other eye conditions is crucial for proper treatment, especially in hot, dry weather, as it can worsen eye allergy symptoms due to dryness.
How to Relieve Eye Allergies
The best approach is prevention. Just stay at home if you are going to be at a house during a day with a high pollen count. Use allergen-blocking sheets for your bedding, and make sure there is no dust in your house.
Use antihistamine eye drops and oral tablets to calm the swelling and redness. Consult a pharmacist before use.
They are, however, the best prescription treatments for severe or persistent allergies. Such can include the administration of strong antihistamines or corticosteroids.
To ease this, put a cool, wet cloth on your eyes. It reduces swelling and itching.
Vision Gallery prioritizes ocular allergy concerns and addresses numerous valid questions from patients. We will delve into the most common inquiries we encounter.
Vision Galley: Your Partner in Eye Health
At Vision Galley, we acknowledge the inconvenience that eye allergies cause. We have a team of qualified optometrists to assist you on how best to see everything clearly and without being bothered by allergies. 

Don't let allergies ruin your sight. Book an appointment with Vision Galley today and ensure tomorrow is clear.

Book Your Consultation Now!
We Provide Exceptional Patient Care
Choosing the right eye clinic is pivotal for your visual health. At Vision Gallery, we prioritize your well-being and clarity of vision.
Schedule an Eye Doctor's
Appointment
What Our Client Say
About Vision Gallery
270 reviews on
Great selection of glasses, Staff is so friendly and did a fantastic stop at helping me choose the perfect pair of glasses that looked great and also in my budget! Will definitely be coming back.
Thorough exams, great doctor and staff! I never feel rushed picking out glasses and everyone is so friendly and helpful!
Fantastic shop for eyes !!!
Great place great service !
Annabelle Nasukowicz
2023-09-26
Very please with the customer service and attention I received at this location! Usually you feel like a hunted prey when I walk into these places because they want the sale but not here! I was treated with respect and was very comfortable with the young lady that helped me. I was also explained in detail why my lenses were adjusted since I am now staring at a computer screen all day long for work! No one has broken that down for me! What a difference it has made too! Thank you so much guys!
They were all very helpful at every step.
I loved all the options for Eyewear. Christine helped me find exactly what I was looking for. Very knowledgeable and nice. Highly recommend!
Great selection of glasses, Staff is so friendly and did a fantastic stop at helping me choose the perfect pair of glasses that looked great and also in my budget. Will definitely be coming back.
Hands down best practice!! I will be coming here for anything that has to do with my eyes. They always exceed my expectations!