Expert Contact Lens Examination for Optimal Eye Health
Are you thinking about switching to contact lenses, or want to make sure your current ones are still the right fit? Look no further than Vision Gallery!

We at Vision Gallery know that everyone's eyesight is different, and choosing the right lens for you is not just about helping you see clearly; it's about comfort, health, and a smooth day-to-day experience. Explore the world of contact lens exams with us and find out why a custom fit is so important for your eyes.
Why is a Contact Lens Examination Crucial?
For an event, on the weekend at the football field – contact lenses are a must. They are so versatile and comfortable that they're absolutely perfect for any occasion. However, you still have to go to an optometrist as every one of your eyes is like a print of a thumb; thus, only by fitting perfectly can you ensure good vision as well as make a person feel convenient and healthy. Your eye exam includes:
Expectations During An Eye Examination.
Firstly, when it comes to contact lenses, it depends on what you do for everyday work and if you face any ailments. Your doctor will follow up with a complete eye examination to confirm it. The lenses are measured to fit properly and move smoothly using the latest tool measuring the cornea. Your eye moisture will also be observed, especially when you have dry eyes. Finally, they will put the lenses on your eyes to check if they fit perfectly and give you visual clarity.
Exploring our tailored lens fitting process will help you to understand the level of accuracy and attention to detail that we prioritize!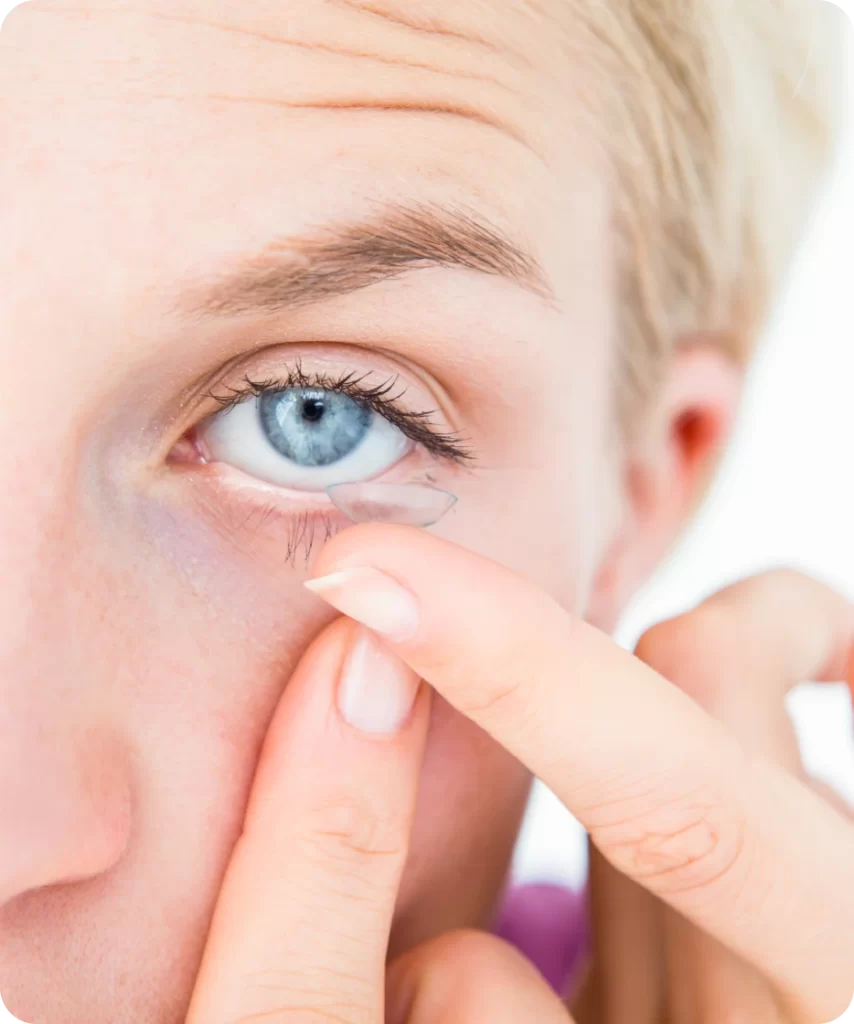 Corneal mapping uses advanced tools such as the keratometer to measure the unique curvature of your cornea. If you have astigmatism, "toric" lenses may be the best fit for you. Corneal topography may also be used for a more detailed analysis.
Using advanced bio microscopes as well as traditional methods, we determine the ideal lens size to fit your pupil and iris perfectly. This precision is very important, especially when it comes to specialized lenses like GP (gas-permeable) contacts.
For those with dry eyes, we assess the quality of your tear film to make sure your lens comfort is maintained. If there's a deficiency, we'll usually recommend a lens designed to retain moisture.
After careful evaluation, we will provide you with a pair of lenses for a test run. Once we've determined your fit and comfort, we will set your prescription, along with essential care guidelines.
What Can You Expect During the Exam?
This includes a deep understanding of how different people live, their hobbies, and specific needs for sports, work-from-home, or managing a unique eye condition, among others.
Before we welcome you into the world of the touch lens, we first evaluate your basic eye fitness to guarantee the right condition.
We use the latest for grading your cornea's curve and diameter so as to fit your touch lenses snugly for a clear vision of every eye movement.
It is important for individuals experiencing dry eyes to assess the moisture level as it ensures lens comfort.
Once all the figures have been obtained, you will then be given a pair of contact lenses to put on.
Once we've found the perfect fit for you, we'll show you the best ways to take care of your lenses. We'll show you how to clean and store your lenses and give you tips on how to insert and remove them easily. We want to make sure your contact lens journey is as smooth and enjoyable as possible.
Ready to See the World Differently?
Contact lenses can give you a new perspective that's not blocked by frames. Whether you're ready to try them out or want to know more, our friendly staff at Vision Gallery are here to help you out. Book your Contact Lens Examination now and start your vision adventure!
Opt for a Specialized Eye Exam At Vision Gallery
Vision is our passion at Vision Gallery. Every eye has a story to tell. That is why we do specialized eye exams. Whether you are getting a new contact lens or would like your eyes to be healthy and fine, our experienced team will walk you through the process. Our practice uses the finest equipment, and we are passionate about precision, so you can be certain that your eye care experience is the very best.

Request a specific eye exam right now! Call Vision Gallery today at (281) 398-4000. Join us on this visual journey!
We Provide Exceptional Patient Care
Choosing the right eye clinic is pivotal for your visual health. At Vision Gallery, we prioritize your well-being and clarity of vision.
Schedule an Eye Doctor's
Appointment
What Our Client Say
About Vision Gallery
270 reviews on
Great selection of glasses, Staff is so friendly and did a fantastic stop at helping me choose the perfect pair of glasses that looked great and also in my budget! Will definitely be coming back.
Thorough exams, great doctor and staff! I never feel rushed picking out glasses and everyone is so friendly and helpful!
Fantastic shop for eyes !!!
Great place great service !
Annabelle Nasukowicz
2023-09-26
Very please with the customer service and attention I received at this location! Usually you feel like a hunted prey when I walk into these places because they want the sale but not here! I was treated with respect and was very comfortable with the young lady that helped me. I was also explained in detail why my lenses were adjusted since I am now staring at a computer screen all day long for work! No one has broken that down for me! What a difference it has made too! Thank you so much guys!
They were all very helpful at every step.
I loved all the options for Eyewear. Christine helped me find exactly what I was looking for. Very knowledgeable and nice. Highly recommend!
Great selection of glasses, Staff is so friendly and did a fantastic stop at helping me choose the perfect pair of glasses that looked great and also in my budget. Will definitely be coming back.
Hands down best practice!! I will be coming here for anything that has to do with my eyes. They always exceed my expectations!