Our journey at Vision Gallery began with a profound mission; to provide outstanding eye care to our community. Our story traces back to when our founder took over the practice from a retiring doctor in 2020. However our roots run deeper as we have been serving the community since 2004.
Complementing our legacy, Dr. Sahar Mahmoodpour, raised in Houston, Texas, brings a wealth of expertise to our team. Graduating with honors from the University of Houston, she earned her Doctorate of Optometry in 2015. As a licensed Therapeutic Optometrist and Optometric Glaucoma Specialist, her extensive clinical experience and passion for innovative eye care solutions further enhance Vision Gallery's dedication to excellence.
Our eye care team is dedicated to providing exceptional eye care. We invest in advanced technology and stay updated with optometry advancements. We offer a range of services, including comprehensive eye exams, contact lens fittings, and managing eye conditions. We believe proactive and preventative eye care is crucial for maintaining good vision and overall eye health.
Vision Gallery prioritizes a patient-centered approach, listening to each patient's concerns and tailoring services to their individual needs. They offer care, compassion, and expertise for various needs, including annual eye check-ups, vision issues, and eyewear fashion. Their priority is your vision, and they aim to be your trusted partner in maintaining and enhancing the gift of sight.
Dr. Nguyen grew up in Baton Rouge, Louisiana and received her bachelors degree in biology and psychology at Louisiana State University. She then earned her doctorate degree at University of Houston College of Optometry, graduating with honors. At Vision Gallery, she is able to explore her passion for pediatrics, speciality contact lens fitting, and dry eye disease. Outside the office, she enjoys taking her dog on hikes, pilates, and exploring Houston's food scene.
Eye Care Services At
Vision Gallery
Periodic eye and vision examinations are crucial for preventive health care, as many problems may not be immediately apparent.  It is therefore possible to prevent vision loss through early diagnosis and treatment. Each patient's signs and symptoms lead to tests, which are determined by the doctor's professional judgment. Vision Gallery is involved in holistic eye exams that do more than just giving glasses or contact lenses, they also check for eye health and visual functions.
Diabetic retinopathy is an eye disease that only affects diabetics. It occurs when the fragile vascular network that supplies the retina – the light sensitive tissue at the back of the eye that helps us see – begins to swell or leak. During the beginning stages of the disease, there may be no noticeable symptoms, so it's important to have your eyes checked at least once a year, if you have diabetes.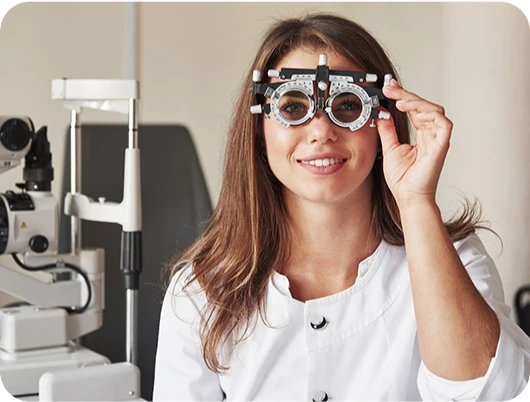 Over 22% of people wear eyeglasses and use contact lenses. Contact lens exam ensures whether you are suitable to wear contact lenses. Eye exams check your vision and eye health, but they don't do the more detailed tests for prescriptions. You'll need to do specific tests, measurements, and lifestyle questions. There are different types of contact lenses, like soft ones, ones that pass gas easily, ones that take gas, and ones that don't. You can wear them daily, weekly, monthly, or extended, depending on how well you see without glasses. Our contact lens exams ensure a perfect fit, maximizing comfort and clarity.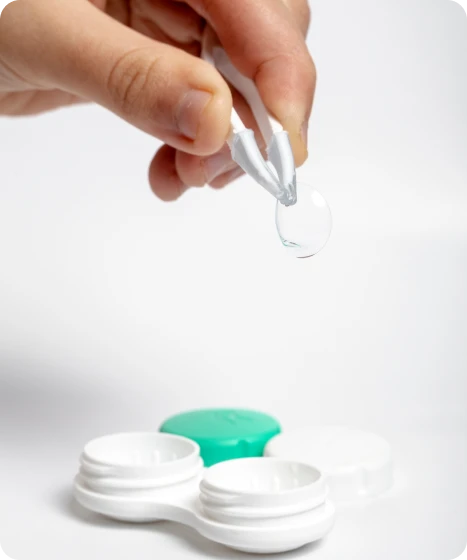 Eye diseases like glaucoma, macular degeneration, and cataracts can be life-threatening if not detected and treated early. Management involves regular examinations, follow-ups, and procedures to reduce vision loss risk. Preventive measures include blindness prevention, cataract surgery, diabetes retinopathy prevention, and geriatric patient treatment. Nutrition advice and ongoing vision care are also crucial. Eye disease should not control one's quality of life, so it should not control one's life. We provide expert consultation, treatment and support for a wide range of eye conditions.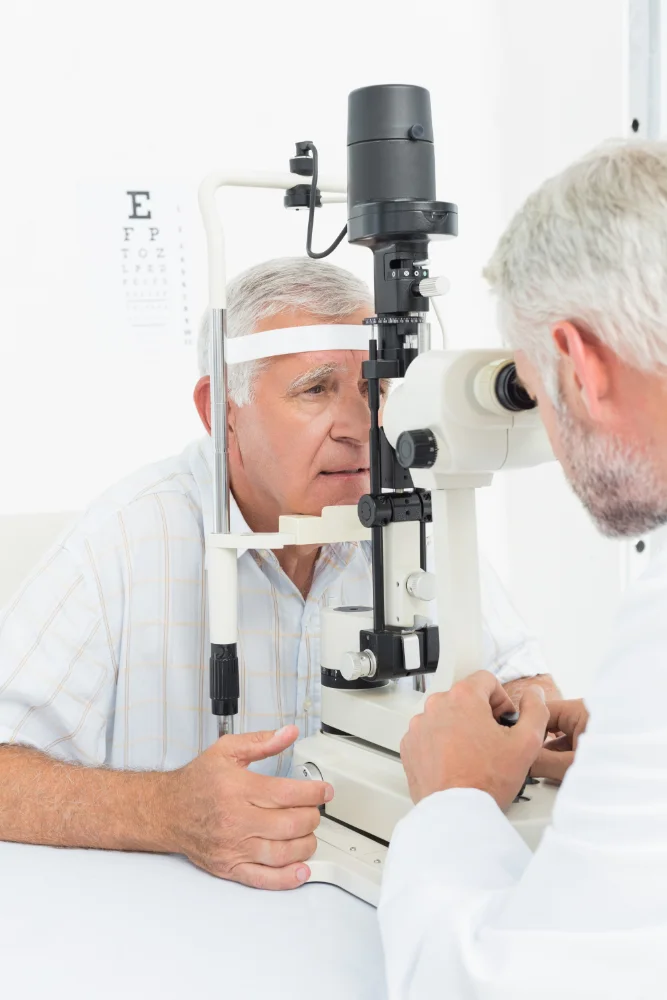 Allergy is an eye disorder characterized by redness, wateriness, itching, and sometimes swelling. Allergy in the eyes is a response to an overactive immune system that tends to perceive harmless environmental substances that the majority of people's immune systems do not react to. SAC is the most common eye allergy in North America, especially in spring, summer, and fall. These may involve change of seasons, pollutants or some allergens that cause irritation to the eyes. We offer solutions to reduce discomfort and effectively manage eye allergies.
Excellent Vision In 3-Easy
Steps At Vision Gallery
Book an
Appointment
You can do so online or
call us at 281 393 4073 today!
Get Your Comprehensive
Eye Exam
Dr. Sahar Mahmoodpour will determine your prescription for glasses and/or contact lenses and will evaluate your eyes for any eye diseases.
What Our Client Say
About Vision Gallery
270 reviews on
Great selection of glasses, Staff is so friendly and did a fantastic stop at helping me choose the perfect pair of glasses that looked great and also in my budget! Will definitely be coming back.
Thorough exams, great doctor and staff! I never feel rushed picking out glasses and everyone is so friendly and helpful!
Fantastic shop for eyes !!!
Great place great service !
Annabelle Nasukowicz
2023-09-26
Very please with the customer service and attention I received at this location! Usually you feel like a hunted prey when I walk into these places because they want the sale but not here! I was treated with respect and was very comfortable with the young lady that helped me. I was also explained in detail why my lenses were adjusted since I am now staring at a computer screen all day long for work! No one has broken that down for me! What a difference it has made too! Thank you so much guys!
They were all very helpful at every step.
I loved all the options for Eyewear. Christine helped me find exactly what I was looking for. Very knowledgeable and nice. Highly recommend!
Great selection of glasses, Staff is so friendly and did a fantastic stop at helping me choose the perfect pair of glasses that looked great and also in my budget. Will definitely be coming back.
Hands down best practice!! I will be coming here for anything that has to do with my eyes. They always exceed my expectations!
We request a 24-hour notice if you need to cancel or reschedule your appointment to make sure we have maximum availability for all of our amazing patients!
Cancellations or rescheduling made within this 24 hour period will incur a $40 fee.